HowStuffWorks "Can e-cigarettes help you stop smoking?"
See on
Scoop.it
–
Electronic Cigarette Health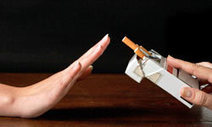 Can e-cigarettes help you stop smoking? Find out if e-cigarettes can help you stop smoking in this article from Discovery Health.
Sam J. Macek's insight:
there's a lot of controversy in this article on tobacco. Basically saying smokers should hold off on trying electronic cigarettes until there's more evidence that these devices are safe.. Tell that to the person who's tried every drug, patch and gum and is nearly dead from tobacco. They need to stop now and while e-cigs can't be marketed as quit smoking devices. That's exactly what they are and they have 10x the success rate of any product on the market. End of story. Whether you use it quit smoking and nicotine completely or just to replace it is up to you.

See on health.howstuffworks.com